Titleholder Jazz Janewattananond of Thailand made a fast start to the defence of his SMBC Singapore Open crown with a four-under-par 67 to sit two strokes adrift of surprise clubhouse leader Kosuke Hamamoto on Thursday.
Thai-Japanese Hamamoto, playing the SMBC Singapore Open for the first time, charged to a blemish-free six under 65 to lead by one from world number 24 Matt Kuchar of the United States, Richard T. Lee of Canada, the in-form Gunn Charoenkul of Thailand and Japan prospect Rikuya Hoshino.
Kuchar, a nine-time winner on the PGA Tour, made an early run at the leader thanks partly to a superb eagle on the 587-yard, par-five seventh at Sentosa Golf Club but a double bogey on the par-four 13th stalled his progress.
However, he bounced back with birdies on the 15th and 18th holes to join the group in second place.
Lee mixed seven birdies and two bogeys in an impressive round while Thailand's Gunn, who has had a string of top-five finishes on the Japan and Asian Tours in recent months, shot up the leaderboard with two late birdies.
Gunn, a client of Lagardere Sports who are the promoters of the SMBC Singapore Open, said on the eve of the tournament that after his good run of form he would 'take a win when it comes'.
Twenty three year old Hoshino, a two-time winner on the Japan Tour, soared into contention with birdies on the last three holes in fading light.
A 75-minute delay in the afternoon due to lightning activity put the tournament behind schedule and the late starters will have to finish their first rounds on Friday morning with a 7.40 am restart. The second round will start at 8.00 am.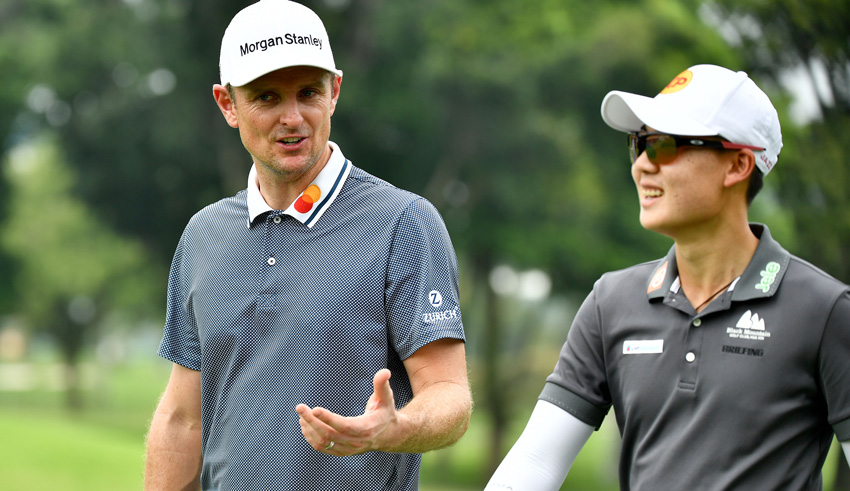 Jazz has finished first, first and fourth in his last three starts and carried that brilliant form into Sentosa Golf Club to eclipse distinguished playing partners Justin Rose of England, a former world number one and Olympic gold medallist, and Japan star Ryo Ishikawa.
The 24 year old Jazz showed some exquisite touches round the greens as he went bogey free. He picked up two birdies in each nine in good scoring conditions.
"The score is not bad you know, left a bit out there, it's still the first round, so no need to go too serious about this and it's still a good score so I'm pretty happy with it," said Jazz, the world number 38, after his morning round.
"(Today did evoke a lot of good memories). There were some pins out there where I remembered where I hit it last year, you know it's good, fond memories."
Rose, the highest ranked player in the field at world number nine, had a shaky start with a bogey on the 10th (his first hole of the day) but immediately got back the shot with a birdie at the next.
Visibly disappointed with the way he was striking the ball, Rose still managed his game superbly well and three birdies on his back nine saw him card three under 68.
"A good score. My game was not exactly great. I did not hit many good shots today but I think I managed my game very well. I was never in a lot of trouble so even though I was not playing well I always managed to be in decent positions – managing the bad shots, I guess," said the 39 year old Rose.
"Very happy to make some birdies on the back nine and shoot three under. I think three under is a good start."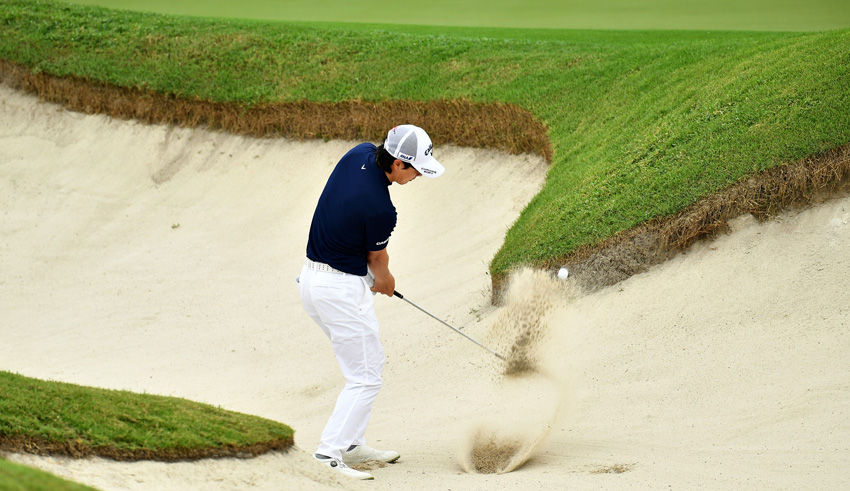 Ishikawa, a three-time winner on the Japan Tour last year, looked like matching Rose after an accomplished round but dropped his only stroke of the day on his last hole, the ninth, to post a 69.
World number 26 Henrik Stenson of Sweden putted well on his way to matching Rose's 68 and was pleased with his first round of 2020.
"Yeah it was good. The first round of the year, I am pretty pleased with the way I played. A good start with birdies on my first two holes, 10 and 11, and shot three under," said Stenson, who won The Open in 2016.
"I think my putting was on today, I made some really good putts, some for birdies and some for par saves."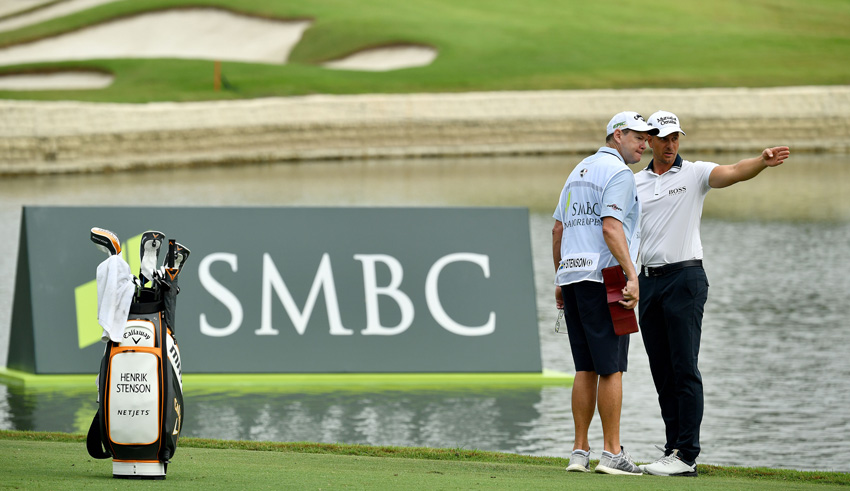 The 20-year-old Hamamoto, whose mother is Thai and father Japanese, had three birdies on each nine and looked comfortable with his approach shots and putter in hand.
"To be honest I'm just happy to be able to play here in this prestigious event," said Hamamoto, who enjoyed two top-10s in his rookie season on the Asian Tour last year.
"I just came in this week with the attitude of you should be grateful and thankful for everything that's been happening," Today I just had a lot of fun and did not really put. A lot of pressure on myself."
Teen sensation Joohyung Kim of Korea, a winner at last year's Panasonic Open in just his third start on the Asian Tour, and countryman Inhoi Hur – a Japan Tour regular who won his only tournament on the circuit in 2014 – matched Jazz's 67 and are tied with him for sixth place.
Like Hamamoto, the 17 year old Kim is making his debut in the SMBC Singapore Open but did not look out of place amongst some of the world's best golfers.
The 53rd staging of the SMBC Singapore Open at Sentosa Golf Club is jointly sanctioned by the Asian Tour and the Japan Tour with total prize money of US$1 million.